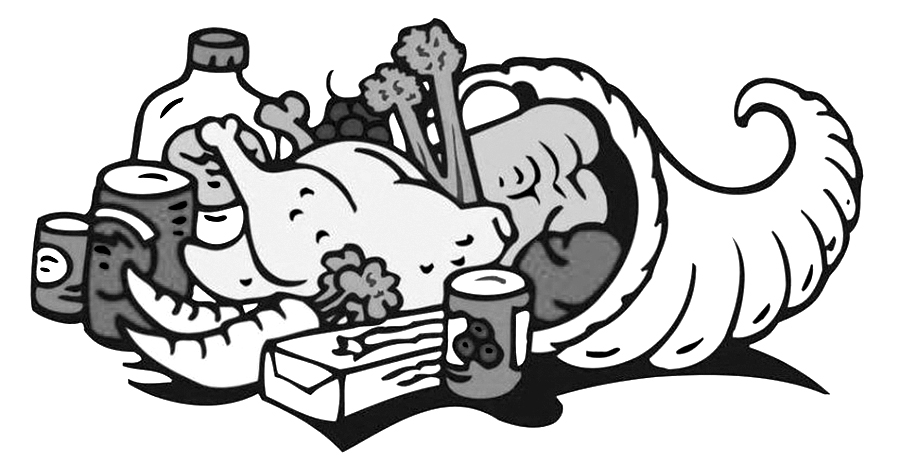 Just the other day at the Westfield Brown Bag a woman approached me and asked if the apples that we were handing out were real. I was a little puzzled by the question at first but assured her that they were indeed real rubber apples. Being such, she would be happy to know that the apples would get home with just minimal bruising. She smiled and thanked us for being so thoughtful.
On another occasion while passing out the Brown Bags I insisted that the eggs they were receiving were not eggs but boneless chicken in a shell. Very easy to prepare with no tedious carving techniques needed; as you would have with a bone-in chicken. Once again the Food Bank was thanked numerous times for their thoughtfulness with making food preparation at home so easy.
On occasion, as we get closer to the holidays I will offer to make the holiday easier. As Thanksgiving approaches is just natural to review cooking a turkey with a few of our recipients. I apologize for the lack of pop corn in their bag but assure them that  if they would just follow these simple instructions their Thanksgiving will go smoothly:
#1 Wash and pat dry your turkey
#2 Fill entire cavity with unpopped pop corn.
#3 Put the bird in a 500 degree oven
#4 As soon as you begin to hear a popping noise stand back from your stove (especially if you have a window in your oven door).
#5 When the final boom goes off the turkey will be done and it will have exploded onto a platter already carved.
#6 ENJOY!
One nice spring day just before Easter, one of our volunteers, Maria, (a very meticulous person) was putting eggs in the Brown Bag. I noticed she seemed to be slowing down the bag packing line. I observed that she was opening every egg carton.
So I mentioned to her that they were all white eggs and she would not find any pink, yellow, green, or blue eggs. The coloring would be up to the kids at home.
Can you imagine Maria tried to tell me that she was checking for broken shells?
These last few years that I have volunteered for the Brown Bag Program have been my most rewarding. To see people every month receiving this much needed food is a blessing.
Each month we see people smile and sometimes laugh after trudging to the church in rain, sleet, snow, cold, and sometimes oppressive heat. Some are happy, some are miserable and some can barely walk. You know you are doing a very special and kind thing. So for these reasons as long as I am able to volunteer for this great cause, I will make it my personal mission to have everyone leave with groceries, a smile, and maybe, just maybe, chuckling a little.